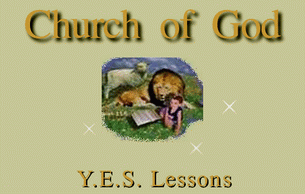 The Y.E.S. lessons you are about to view have been scanned at a very high resolution. Some Y.E.S. lessons in the past were of poor quality and the front and back covers were omitted from the PDF file to enable the file to load quicker. The files you are about to view retain the front and back covers and the graphics are of high quality, this makes the loading time take a little longer (8-10 min.). To aid in a pleasant viewing experience we have made it so the lessons will load in a separate page. When the lesson starts to load you can simply minimize the page and continue using your computer and or browser and go back to the lesson once it has finished loading. Many parents desire to print the lessons out for their children, the quality of the finished printed lesson is worth the few extra minutes it will take to load. In the future we hope to make available web page versions for online browsing. Thank you for your patience.
Youth Bible Study lessons in printable

Adobe Acrobat PDF files. K-9
Great Bible lessons, with lots of graphics. Each level has a Feast of Tabernacles book and Spring and Fall Holy Days lessons in addition to eleven regular Bible lessons.
To read PDF files you will need a copy of the (free) Acrobat Reader. Click on the logo below to go to Adobe's website to download the reader.

Please note these files are the entire Lesson (aprox. 12 pages), if you are on a slow connection please watch the blue status bar at the bottom. This will tell you when the file has finished loading. On dial up, a full Lesson may take up to 4 minutes to load depending on the time of day. Those with faster connections should not have any problem. You may save the file to your computer for viewing offline by right-clicking and choosing "save as".